Hey There Friends!
Here is a layout I created centered around to of my Daughters. The image was taken many years ago but, I thought it was to cute not to scrap, lol. The girls said I could have used a better photo but, this is one of my favorites. Only because they look happy.
This layout was made up using many products carried in the
Creating With Details Online Shop
. We are moving to an Etsy Shop
CreatingWithDetails Etsy
so you can check them out to see the fabulous Goody Boxes Mai has for almost nothing. The prices on the Goody Boxes are crazy cheap and filled with so many wonderful products!
This layout was super easy to create and with so many beautiful flowers, I couldn't go wrong. I did use a lot of glass beads again, lol. I totally Love this stuff! Makes your colors pop and who can ask for more? I tried the Ombre look, kinda sorta, lol.
Here is a close up of the Fab Scrap Chipboard Crown. Loaded with Glass Glitter. That stuff is so awesome! I like the bling if you haven't noticed :).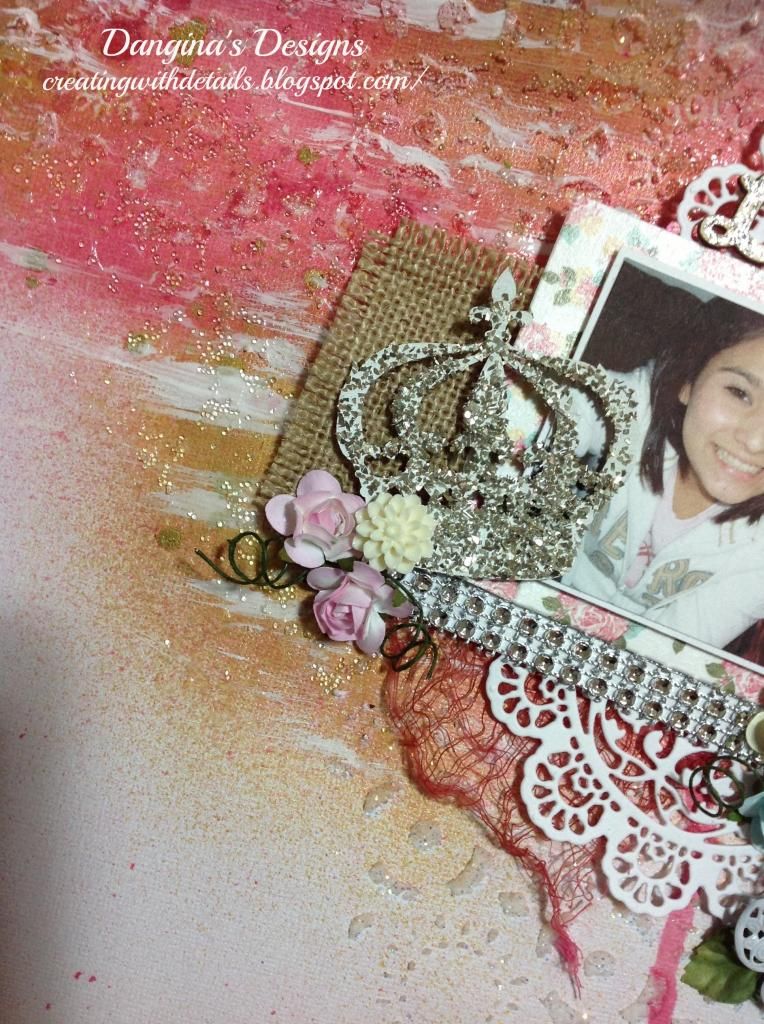 Well I appriciate you Dropping in to visit and I hope you'll head on over to the Shops to see what Great Deals we have going on for you.
Have a Great Week! Hugs, Dangina Martinez
Enablers List
Starbust Sprays Victorian Bouquet - Rambling Rose Pink
Prima Color Bloom Gold foil
Liquitex Glass Beads
Premium Gesso Canvas Primer
Paper Flowers
White Nylon Flower
Prima Doily Stencil
1 Row Bling Roll
White Filigree Flower Wraps
Acrylic Flowers
Fab Scraps Die Cut Crown